ICE 2020 Coming Soon!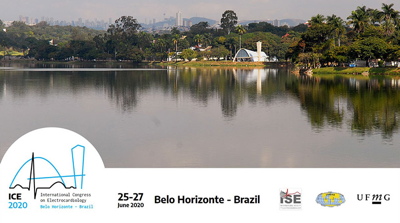 The planning is underway for the ICE 2020 Conference in Belo Horizonte, Brasil. In the meantime, mark the dates: June 25-27, 2020. The abstract submission deadline is Jan 6, 2020. See the local web site for more details.
The Society is sad to announce the death of Pentti Rautaharju on Tuesday, August 7th, 2018.
Pentti was a real father figure who made a huge contribution to electrocardiography from the introduction of the Minnesota Code in 1960 through so many computer-assisted studies, with a particular interest in epidemiology.
He was a strong supporter and the International Society of Electrocardiology (ISE), served on the International Council, and hosted the 1993 ICE Conference in Kananaskis, Alberta, Canada.
Pentti will be fondly remembered and sadly missed by so many.
Our sincere condolences are offered to Pentti's wife Farida and family.
Welcome the new ISE President: Antonio (Tom) Luiz Ribeiro

After all is said and done, electrocardiography stands as one of the most established and useful methods of investigation of the heart, being available almost everywhere in the world, helping physicians and health professionals in the recognition, follow-up, prognostication and treatment of cardiovascular and systemic diseases. Electrocardiology is the field that encompasses all investigative methods derived from the cardiac electrical activity or used to record the electrical activity of the heart in one way or another. The International Society of Electrocardiology (ISE) aims to promote the advancement of the science of Electrocardiology, through the dissemination of new knowledge, encouragement of new research in the field and sponsoring of an International Congress on Electrocardiology and supporting other meetings in this field. It is a traditional international society, with a history from the 1950s, and with a long record of contributions to the field of Electrocardiology.
Thus, it is an honor to become the President of ISE for the period of 2019-2021, succeeding eminent cardiologists and researchers such as Adrian Baranchuk, Wojciech Zareba, Peter Macfarlane, and so many others. It is an opportunity to serve the cause of dissemination of a method that can save lives, and help people to live better, by improving the knowledge of the electrical activity of the heart in health and disease. To become the President of this Society is to be the one who will "carry the torch" and pass it to the younger generations. In this context, it is of utmost importance to acknowledge the creation of the Young Community of ISE, the ISE-YC, a global network of young trainees, physicians, and other healthcare professionals who represent the new generation in our field.
Medicine and health are changing very quickly, as is the way clinical tests are being performed, analyzed and used by physicians. Social networks, big data, machine learning, and mobile health are now a reality in all aspects of our life and Electrocardiology should not be spared. The wide availability of ECG recordings from smartphones and digital watches will change how people see and use Electrocardiology, as well as the potential application of new deep learning methods to analyse the traditional electrocardiogram. It is a role of this society to take the lead in this process and guarantee the accuracy and fidelity of the interpretation of the ECG in these new scenarios and to merge this new knowledge with more than a century of experience in recording and interpreting the electrical activity of the heart.
It is also time to work closely with other societies whose focus is convergent with ours, such as the International Society of Holter and Noninvasive Electrocardiology and the International Society of Computerized Electrocardiology, as well as to establish dialogue with related fields, such as electrophysiology, cardiac imaging, cardiovascular epidemiology and genetics, telehealth and digital health. This direction has been established by previous presidents and my aim is to further tighten these associations and partnerships, promoting collaborative events and seminars in International Congresses and establishing partnerships to write consensus and position papers that summarize the state-of-the-art on the major topics in Electrocardiology.
Finally, we should not forget that cardiovascular diseases are still the number one killer in both the developed and developing world, but most of the success in tackling cardiovascular disease has occurred in developed countries. To ensure healthy lives and promote wellbeing for all at all ages is one of the World Health Organization's Sustainable Development Goals, which includes the aim of achieving universal health coverage, with access to quality essential health-care services, in order to reduce by one third premature mortality from non-communicable diseases. Electrocardiography is undoubtedly an essential service which is needed to achieve these goals. To expand access to the knowledge in Electrocardiology in the developing world is also a task for our Society. Time to work!
Antonio Luiz Ribeiro
President, International Society of Electrocardiology
The Journal of Hospital Medicine has just released a new article that brings together leader from our society and our partners at ISHNE to identify the ECG interpretation compatentices for trainees. The paper addresses the need that "Currently, many medical education programs lack an organized curriculum and competency as- sessment to ensure trainees master this essential skill."
Find the text of the new paper here and address comments and suggestions to our president, This email address is being protected from spambots. You need JavaScript enabled to view it., the corresponding author for the paper.
It is with great sadness that we remember our dear colleague Adriaan van Oosterom, who died Friday afternoon, April 26, in Nijmegen, at the age of 77 with his family by his side.
With his passion and his intellect, Adriaan has left an indelible mark on the field of bioelectricity. He was greatly appreciated and admired by his colleagues all over the world. Young investigators will remember their first encounter with Adriaan, when he fired sharp questions at them after their presentation at a conference. During the break, Adriaan would seek them out and show his keen interest in and appreciation for their ideas and conclusions. Adriaan could be very direct (even for a Dutchman), sometimes caught people unawares. But he was also very open, had a keen sense of fairness, and never hesitated to support his fellow scientists. His PhD students could drop into his office at almost any time; immediately, he would drop whatever he was doing and immerse them in scientific discussions. It is no surprise that his students have carried his tradition of rigor and scientific and personal integrity.
Adriaan also played a large role in the ISE; he was the President of the Society from 2009-11 and an International Council member for many years. He was the chair of the 1995 edition of the ICE, which he hosted in his home town of Nijmegen, even though he was recovering from his first fight with the cancer that eventually overwhelmed him. He always pushed for improvement and for an active and engaged Council; he always led by example.