14thAnnual Conference of the European Cardiac Arrhythmia Society
April 15-17, 2018
Paris, France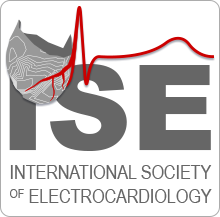 For the first time the International Society of Electrocardiology and the International Society for Holter Monitoring and Noninvasive Electrocardiology organized a joint session at the ECAS annual conference. The topics were selected to represent an overview of current directions in research in electrocardiology. The importance of P-QRS-T morphology changes recognition in identifying the potential substrates for arrhythmias was accented.
Surface ECG in the 21stCentury (ISE-ISHNE-ECAS Joint meeting)
April 16, 2018
Chairpersons:
Ljuba Bacharova, Bratislava, Slovakia; Niraj Varma, Cleveland, USA
Speakers:
Antonio Bayes de Luna (Barcelona, Spain):P-wave: The past, the present and the future.
Peter Macfarlane (Glasgow, United Kingdom):Update in early repolarization.
Ljuba Bacharova (Bratislava, Slovakia):Definition of LBBB: does it matter?
Philippe Chevalier (Lyon, France):VF risk in Brugada type I ECG patients: is the ECG the key?
Ljuba Bacharova
Niraj Varma