ICE 2018 in Chiba City, Japan

Message from the Conference Chair
The 2018 International Congress on Electrocardiology (ICE 2018) was held in Makuhari Messe, Chiba City, Japan, from June 28 to 30, 2018. The ICE 2018 was the second joint meeting of the Congress of the International Society of Electrocardiology (ISE) and the Congress of the International Society for Holter and Noninvasive Electrocardiology​​​ (ISHNE). On behalf of the ICE 2018 Congress Organizing Committee, I would like to thank all participants who attended this scientific joint meeting.  Eventually, more than 330 participants including invited Faculties over 24 countries attended the Congress.
The highlights of the Congress included the Memorial Session for Arthur J. Moss, the Pierre Rijlant Lecture, 4 Symposia, 12 Topic Sessions, and 10 Keynote Talks. The Memorial Session for Arthur J. Moss was held in commemoration of his achievements. Prof. Wojciech Zareba (USA) and Prof. Harold L. Kennedy (USA) had great lectures. In the Pierre Rijlant Lecture of the ISE, Prof. Teruhisa Tanabe (Japan) and Prof. Masayasu Hiraoka (Japan) had very interesting lectures. 
In total, 115 abstracts were submitted for consideration and most were presented at the meeting. Among them, 7 abstracts were nominated in Young Investigator Award (YIA) Competition organized by the ISE and 5 abstracts in the Best Abstract Award (Junior Award) Competition organized by the ISHNE. After careful consideration, we gave YIA-First Prize to Dr. Yuhi Fujimoto (Japan), YIA-Second Prize to Dr. Bryce Alexande (Canada), YIA-Third Prize to Dr. David Cruz-Punti (Spain), and the Best Abstract Award to Dr. Nobuhiko Ueda (Japan). In addition, this time, the new Award (ECG Bayés Award) was established for young outstanding ECG researcher by the ISE. We had 7 applicants to receive this Award. As a result of strict document review, we gave ECG Bayés Award to Dr. Gray Tse (Hong Kong).
In the evening after the scientific sessions on June 28 and June 29, we had very nice Social Events and enjoyed Japanese culture and cuisine in modern and/or historical places. We made deep exchanges among members from the ISE and the ISHNE.
We are looking forward to seeing personally our members on May 30 to June 1, 2019, in Belgrade, Serbia!
Young Investigator Competition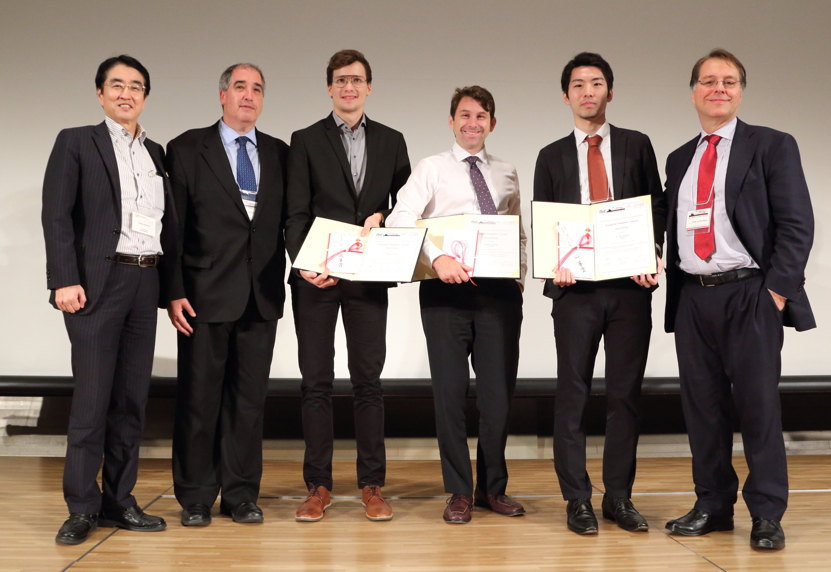 Winners of the YIC for 2018: (left to right) Dr. Bryce Alexander, Canada (Second prize), Dr. David Cruz-Punti, Spain (Third prize), and Dr. Yuhi Fujimoto, Japan (FIrst prize). 
Local organization
Congress president: Takanori Ikeda
Scientific Session Secretariat: T. Fujino, T. Kinoshita (Toho University)