Start planning for ICE 2019, which will be May 30-June 1, 2019 in Belgrade, Serbia. Stay tuned to the ICE 2019 Web Page for details as they start to come together.

JECG is now on Twitter so follow along and get the latest updates on content, people, and activities.
@JElectrocardiol and #JECG
See the
News Page
for the most recent content
---
Joint Session with ISE/ISHNE at HRS 2019!
The first outcome of the new agreement between our partner societies and th Heart Rhythm Socieity (HRS) has just been announced. We will run a joint session at the HRS 2019 in San Francisco. There is a plan in place for the speakers so stay tuned for more details.
---
New Agreement to Link ISE/ISHNE and HRS
Our president has just finalized an exciting new memorandum of understanding that will see closer ties between our society and the Heart Rhythm Society, the major international home of electrophysiologists. The new agreement will enable exchange of notifications and cosponsorship/endorsement of each group's meetings. The MOU also paves the way for closer collaboration, e.g., in planning HRS Scientific Sessions, participation in the HRS Education committee, and advising for the Scientific Clinical Documents Committee. For more details, read the text of the MOU here.
This agreement will mean more exposure for our society and new opportunities for collaboration. Stay tuned for more news as the collaborations move along.
---
Report on the 14thAnnual Conference of the European Cardiac Arrhythmia Society
April 15-17, 2018
Paris, France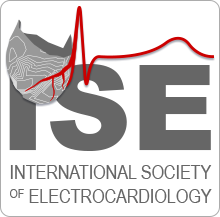 For the first time the International Society of Electrocardiology and the International Society for Holter Monitoring and Noninvasive Electrocardiology organized a joint session at the ECAS annual conference. The topics were selected to represent an overview of current directions in research in electrocardiology. The importance of P-QRS-T morphology changes recognition in identifying the potential substrates for arrhythmias was accented.
Surface ECG in the 21stCentury (ISE-ISHNE-ECAS Joint meeting)
April 16, 2018
Chairpersons:
Ljuba Bacharova, Bratislava, Slovakia; Niraj Varma, Cleveland, USA
Speakers:
Antonio Bayes de Luna (Barcelona, Spain):P-wave: The past, the present and the future.
Peter Macfarlane (Glasgow, United Kingdom):Update in early repolarization.
Ljuba Bacharova (Bratislava, Slovakia):Definition of LBBB: does it matter?
Philippe Chevalier (Lyon, France):VF risk in Brugada type I ECG patients: is the ECG the key?
Ljuba Bacharova
Niraj Varma
---
Upcoming Conferences and Events