Start planning for ICE 2019, which will be May 30-June 1, 2019 in Belgrade, Serbia. Stay tuned to the ICE 2019 Web Page for details as they start to come together.

JECG is now on Twitter so follow along and get the latest updates on content, people, and activities.
@JElectrocardiol and #JECG
See the
News Page
for the most recent content
---
New Agreement to Link ISE/ISHNE and HRS
Our president has just finalized an exciting new memorandum of understanding that will see closer ties between our society and the Heart Rhythm Society, the major international home of electrophysiologists. The new agreement will enable exchange of notifications and cosponsorship/endorsement of each group's meetings. The MOU also paves the way for closer collaboration, e.g., in planning HRS Scientific Sessions, participation in the HRS Education committee, and advising for the Scientific Clinical Documents Committee. For more details, read the text of the MOU here.
This agreement will mean more exposure for our society and new opportunities for collaboration. Stay tuned for more news as the collaborations move along.
In Memory of Fred Kornreich
Only shortly after Pentti, his dear friend and another pioneer in our field has also passed. We are sad to report that Fred Kornreich passed away on August 20, 2018. Fred was trained as a cardiologist and became fascinated with BSPM and statistics so he set out to link features of the ECG available only from BSPM with diseases. He traveled to all the leading BSPM labs of the day and created a network, one that sustained him personally and professionally for the rest of his career. Some of you are members of the network, no doubt.
Fred also organized a meeting of a group, of which only Adriaan and I (Rob) remain (see photo), to discuss the state of BSPM and the ECG Inverse problem, now more commonly called "ECG Imaging", in 2004. It took 10 more years to create a second such meeting and what is now the Consortium for ECGI (http://www.ecg-imaging.org) that is providing a collaborative, international setting for this research. Fred, Ron, Pentti, Galen, and Christophe captured the spirit of that generation and we mourn their passing but also celebrate their pioneering achievements. The research, and our memories of Fred and the other ECG pioneers, live on.
We extend our deepest condolences to Fred's children and their families.
In Memory of Pentti Rautaharju
It is with great sadness that we advise of the death of Pentti Rautaharju on Tuesday, August 7th, 2018.

Pentti was a real father figure who made a huge contribution to electrocardiography from the introduction of the Minnesota Code in 1960 through so many computer-assisted studies, with a particular interest in epidemiology.

He was a strong supporter of the International Society of Electrocardiology (ISE), was a member of the Council, and organized the 1993 meeting in Kananaskis.
Pentti will be fondly remembered and sadly missed by so many.
Our sincere condolences are offered to Pentti's wife Farida and family.
---
Report on the 14thAnnual Conference of the European Cardiac Arrhythmia Society
April 15-17, 2018
Paris, France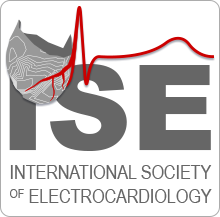 For the first time the International Society of Electrocardiology and the International Society for Holter Monitoring and Noninvasive Electrocardiology organized a joint session at the ECAS annual conference. The topics were selected to represent an overview of current directions in research in electrocardiology. The importance of P-QRS-T morphology changes recognition in identifying the potential substrates for arrhythmias was accented.
Surface ECG in the 21stCentury (ISE-ISHNE-ECAS Joint meeting)
April 16, 2018
Chairpersons:
Ljuba Bacharova, Bratislava, Slovakia; Niraj Varma, Cleveland, USA
Speakers:
Antonio Bayes de Luna (Barcelona, Spain):P-wave: The past, the present and the future.
Peter Macfarlane (Glasgow, United Kingdom):Update in early repolarization.
Ljuba Bacharova (Bratislava, Slovakia):Definition of LBBB: does it matter?
Philippe Chevalier (Lyon, France):VF risk in Brugada type I ECG patients: is the ECG the key?
Ljuba Bacharova
Niraj Varma
---
Upcoming Conferences and Events