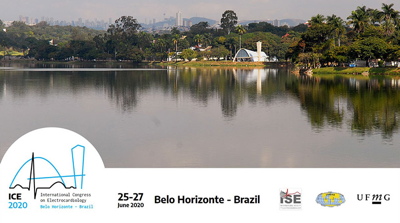 March 16, 2020: the organizers of the conference regret to announce the cancellation of ICE 2020. The reasons are obviously entirely linked to the COVID-19 outbreak. We hope to visit Brazil in the future. See the local web site for more details.

JECG is now on Twitter so follow along and get the latest updates on content, people, and activities.
@JElectrocardiol and #JECG
See the
News Page
for more news items
---
March 16, 2020: Update on Status of ICE 2020
The ICE2020 organizing committee is very sorry to announce that ICE2020 will be canceled due to concerns related to the COVID-19 outbreak. This difficult decision has the support of both the Executive Committee of the International Society of Electrocardiology (ISE) and the Board of the International Society for Holter and Noninvasive Electrocardiology (ISHNE). The conference would be a joint meeting of the two societies and was scheduled to take place between June 25 and 27, 2020 in Belo Horizonte, Brazil.
We came to this decision based on recent reports from the World Health Organization (WHO), the US Centers for Disease Control and Prevention (CDC), and the Brazilian Ministry of Health, showing that the potential reach of the virus has changed significantly in the last weeks. The current uncertainties make it impossible to accurately assess the risks of traveling and attending international conferences in the coming months. Additionally, there are concerns about our adding risks to healthcare systems throughout the world, given the medical profiles of many conference attendees, as well as to the safety of our community, employees, and local residents.
We recognize and thank all the hard work that so many have put into preparing their abstracts, sending resumes for our awards, and planning to travel to Brazil. Attendees will be contacted with further information regarding their registration. Please contact This email address is being protected from spambots. You need JavaScript enabled to view it. for immediate concerns. Any further updates regarding ICE2020 will be published on ice2020brasil.com.br and the society web pages
Antonio Luiz Ribeiro
President, ISE
President, ICE2020
Iwona Cygankiewicz
President, ISHNE
---
Message from the President
This message is directed to you, young investigator and early career faculty. Since its development in humans by Einthoven, more than 100 years ago, electrocardiology has been a continuous source of research and innovation. New techniques and applications for new fields have appeared in the last few decades, in an ever-changing story of renewal and rediscovery. For over a century, several generations of researchers, clinicians, engineers, and health professionals have devoted their lives to the study of electrocardiology
More than 30 years ago, ISE established a Young Investigator's Award, created as a stage for young researchers to present their investigations and developments in the field of electrocardiology. This is a very unique moment of our congresses, when, in a special session, all attentions are focused on the presentation of new research by early-career colleagues to the audience and a judging committee of established experts. I am myself a Young Investigator's Awardee, in a well-fought competition in 2001, in which two candidates shared the first prize. To participate in this award was a very important step in my career and it was a unique, unforgettable experience.
The ICE2020 Congress, which will be held in Belo Horizonte, Brazil, from June 25th to 27th, will have a session dedicated to the ISE Young Investigator's Award. Submission is open from November 15th, 2019, to February 3rd, 2020. We invite you, Young Investigator, to submit your best research to this session. We can assure you that those selected will have your work discussed and valued. I hope to welcome you to ICE2020!
Antonio Luiz Ribeiro
President, ISE
President, ICE2020
---
---
Other Upcoming Conferences and Events