Society news
See also our latest newsletter (May 2022) and previous issues.
4-5 June 2022: First International Meeting of ISE Young Community
The ISE young community held its first scientific meeting on the 4th and 5th of June. The event was fully online and free of charge. Four of the submitted abstracts will be selected to be presented at the "Best Abstract" oral session. Accepted abstracts will be published in the Journal of Electrocardiology. final program (PDF).
On the first day, the first session chaired by Mark Potse and Tong Liu focused on risk stratification of ventricular arrhythmias in specific diseases, with topics of Brugada syndrome by Sharen Lee, long QT syndrome by Levent Pay, pericarditis by Ishan Lakhani and heart failure by Ana Ciobanu. The application of these research findings for clinical application were discussed by Elena Zaklyazminskaya and Tachapong Ngarmukos. The second session chaired by Vassilios Vassilikos and Göksel Çinier focused on risk stratification of atrial arrhythmias. Cengiz Burak reviewed the published works on the use of P-wave indices for AF prediction, whilst Özge Mert presented the concept of atrial cardiomyopathy, and Ali Uğur Soysal provided an update on wearable devices for AF detection. The wider clinical applications and decision making using different investigation modalities such as ECG and cardiac magnetic resonance imaging were discussed by Anna Chousou, Boyoung Joung and Vassilios Vassiliou. The third session chaired by Sebastian Garcia Zamora and Andrés Felipe Miranda‐Arboleda concerned ECGs in acute coronary syndromes. Sevda Aygün illustrated the difficulty in diagnosing STEMI in challenging scenarios, whilst Ozan Tezen reviewed the value of ECGs in NSTEMI. Elham Mahmoudi discussed the localisation of the culprit artery based on ECG findings and Pendell Meyers discussed the paradigm shift in STEMI diagnosis using the terms occlusion myocardial infarction (OMI) and non-occlusion myocardial infarction (NOMI). The discussions were chaired by Emrah Erdoğan and Yochai Birnbaum. The fourth session chaired by Pyotr Platonov and Konstantinos Letsas focused on the diagnosis and localisation of ventricular arrythmias. Emir Baskovski reviewed discussed a practical approach for the differential diagnosis of wide QRS complex tachycardias. Enes Elvin Gül illustrated the theory and practicalities of defining the critical isthmus during VT ablation, whilst Yaodong Li provided an update on the new mapping techniques for VT ablation. Discussions were led by Mert İlker Hayıroğlu and Augusto Meretta.
The second day of the meeting started with the best oral presentations session chaired by Sharen Lee and Gary Tse. The first session chaired by Takanori Ikeda and Radu Vatasescu was a ISE-YC-ISHNE Joint Session on how to analyze and interpret challenging ECG tracings. Cosmin Cojocaru illustrated challenges encountered in the emergency department, whilst Ahmet Çağdaş Yumurtaş and Ema Goanţă presented lessons from the catheterisation and electrophysiology laboratories. Takashi Ashihara provided a practical approach to ECG interpretation. Discussions on the topic were led by Yi-Gang Li, Thomas Klingenheben, and Leandro Tomas. The second session chaired by Bülent Görenek and Çağlar Özmen focused on the roles of ECG in cardiac implantable electronic devices. Josip Borovac reviewed the use of ECG before CRT implantation. Konstantinos Triantafyllou and Pawel Matusik illustrated the use of ECG in His bundle and left bundle branch pacing. Muhammed Dural demonstrated challenging ECG tracings in patients with cardiac implantable electronic devices. Discussions were led by Melisa Antoniolli and Meltem Altınsoy. The third session chaired by Gary Tse and Emanuela Locati concerned digital health and the ECG. Deepak Padmanabhan considered the application of machine learning for sudden cardiac death. Kamalan Jeevaratnam presented a case for predicting AF based on sinus rhythm ECGs. Shreen Mohammed considered the evidence for predicting heart failure using ECGs. Kiera Liblik illustrated the problems of cybersecurity in electrocardiology. Discussions were led by Natasja MS de Groot and Ljuba Bacharova. The fourth session chaired by Clara Saldarriaga and Rajeev Pathak focused on ECGs in specific infectious diseases, including Lyme disease by Cynthia Yeung, Chagas disease by Andrés Felipe Miranda‐Arboleda and COVID-19 by David Chieng. The NET-HEART project was presented by Hector Isaac Alejandro Ortiz Lopez. Discussions were led by Jesús Alvarez-Garcia and Pilar Lopez-Santi.
Other upcoming meetings
The next Computing in Cardiology meeting will take place on September 4-7 in Tampere, Finland. The abstract deadline was on 15 April.
The next International Congress on Electrocardiology (ICE) will be held in 2023.
The ISE-ISHNE Joint Committee for Scientific Documents
ISE and ISHNE have a great relationship. The areas of interest of the two societies are very close. In the past these societies created several joint documents such as guidelines and position papers together. To continue this partnership, the ISE and ISHNE established in 2021 a Joint Committee for Scientific Documents.
The committee is chaired by the presidents of the two societies, Bulent Gorenek and Takonori Ikeda. The other members are Antonio Ribeiro, Pyotr Platonov, Peter Macfarlane, Gary Tse, Adrian Baranchuk, Emanuela Locati and Wojciech Zareba. Members will serve for a two-years term. The committee will review joint paper suggestions coming from both societies and establish a joint writing committee for each topic and also invite joint reviewers for each paper.
ISE Webinar series
Since it is still difficult for many to travel nowadays, the ISE will continue its popular online seminar series over the coming months. We anticipate an excellent series with world-class speakers. The format of most webinars is a 15-minute talk and 5 minutes of discussion. We host them via Zoom at a time of day that we hope works (more or less) for everyone. Invitations for the meetings and the modalities for registration are sent by e-mail to the members of the ISE.
The latest webinar took place on May 12. The title was ECG in Inherited Arrhythmia Disorders (Part II) and it was chaired by Professor Takanori Ikeda of Toho University, Japan. The following presentations were given:
   ECG in presumed Brugada syndrome patients: Pride and prejudice
   by Prof. Philippe Chevalier (Université Claude Bernard Lyon 1, France)
   Too rare for routine, too common for mutation: clinical and genetic counseling of the risky alleles carriers
   by Prof. Elena Zaklyazminskaya (Petrovsky National Research Center of Surgery, Russia)
   ECG in Long QT syndromes, beyond long QT interval
   by Prof. Emanuela T. Locati (IRCCS Policlinico San Donato, Italy)
To watch past events, click on the links below or see all of them on our YouTube Channel.
ICE 2021 presentations online
Presentations given at the ICE 2021 online meeting are still available on the conference website . To view the ISE Young Investigator Competition final presentations and awards see this video.
JECG now on Twitter

The Journal of Electrocardiolopgy is now on Twitter so follow along and get the latest updates on content, people, and activities.
ISE now on Facebook
The ISE has its own Facebook page now also with an ECG of the day.
Message from the President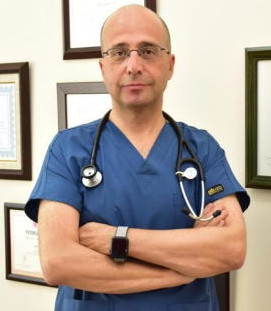 Dear members of ISE, colleagues, and friends,
I am extremely honoured to start serving ISE as the President for the next two years. This is a huge privilege, but also a very big responsibility, which I can only hope to fulfill.
I would like to acknowledge the Past President, Antonio Luiz Ribeiro, for his immense work during the last two years. I take over ISE in excellent health and successful operation. I promise that I will do my best to maintain the same level of activity as he established.
We will walk together to make the ISE the strongest advocate for our discipline and our professions. I will give my best to serve the Society in order to help it continue to achieve its goals.
Electrocardiology is an extremely dynamic discipline. Although its roots may be traced to the beginning of the twentieth century, the science of electrocardiology has continued over the last few decades to be an evolving, growing and interesting field. I assure you that we will always provide an innovative and comprehensive overview of the latest research developments in electrocardiology here, and via our Journal of Electrocardiology and that the Society offers the proper place to initiate international projects of value such as the establishment of guidelines.
The Council of ISE would like to encourage young researchers at the beginning of their careers to get involved in its activities. The ISE's work is focused on enriching your experience as a member, so it is always open to feedback on its current services and how it can better serve you. Please feel free to contact me at any time with suggestions for enhancing the work of ISE.
Kind regards.
Prof. Bulent GORENEK
President, International Society of Electrocardiology